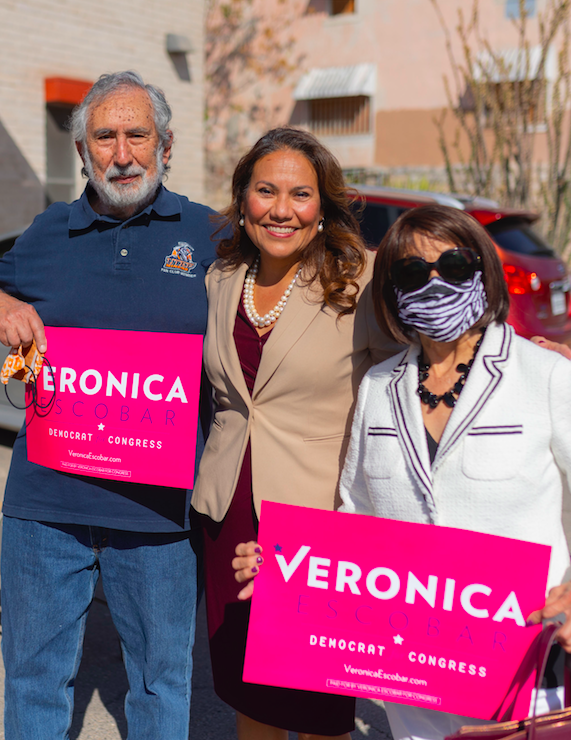 Progressive Values. Experienced Leadership.
"It's the honor of a lifetime to serve the people of El Paso. That's why I'm committed to fighting for better and more affordable access to healthcare, fair wages for workers, meaningful and long-lasting immigration reform, and solutions to the climate crisis that affect all of us."
In COVID relief
for El Paso
Sponsored or co-
sponsored bills
Expanding access and lowering costs for everyone.
Addressing our climate crisis with impactful legislation.
Reforming our broken immigration system with fair, humane policies.
Creating jobs and an economy that works for everyone.
KFOX: $11.58M in federal funding will be awarded to nine El Paso community projects
"El Paso Rep. Veronica Escobar announced on Monday that $11.58 million in federal funding will be invested into nine community projects that will benefit El Pasoans."
LA Blade: Veronica Escobar talks Biden immigration policy, LGBTQ asylum seekers
"We need to use alternatives to detention far more robustly and we need to stop growing detention space," said Escobar.
NY Times: I Represent El Paso. What I'm Asking For Doesn't Include Open Borders.
Many Republicans are eager to blame President Biden for the increase in families and children arriving at the border, but the truth is that this is not a new phenomenon.
NY Times: Texas Latina Emerges as House's Voice of Passion and Reason on the Border
"How lucky people like me are to have been born on the other side of that skinny river," said Veronica.
From teacher, to commissioner, to county judge, to Congresswoman: Meet Veronica and her decades-long fight for progress in El Paso.
Sign up for Veronica's personal newsletter.
Help us connect with our community by volunteering.
Make a difference by helping fund our campaign.